KEARNEY — On an 11-acre plot in Kearney sit dozens of what look like shipping containers.
Inside the containers are racks and racks of computers. Thousands of computers, solving complicated math equations around the clock.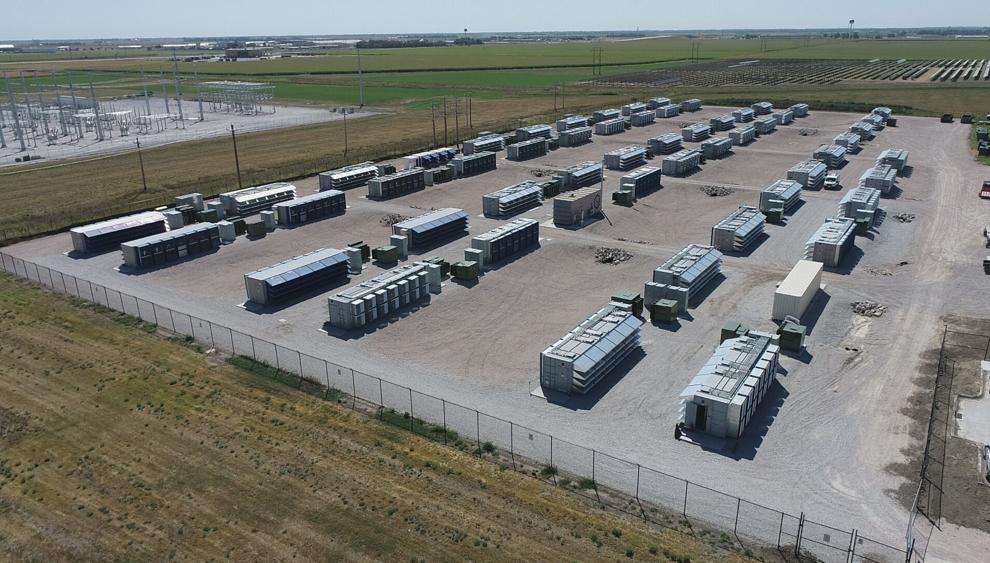 Here on the outskirts of town, wedged between a solar field and a cornfield, the computers mine for cryptocurrency.
They use as much electricity as the entire city of Kearney, pop. 33,790, to do it.
This is one of the largest cryptocurrency data centers in Nebraska — a massive, 100-megawatt host site for the computers racing to verify crypto transactions.
It's likely the first of many data centers to settle in the state, as the new and oft-volatile crypto industry carves out a home here.
Crypto's instability already hit the Kearney location — in September, Compute North, the company that opened the data center, declared bankruptcy, though the center is still running under a new owner.
Not even freefalling crypto prices and the infamous failure of crypto exchange FTX have stopped the industry's expansion in Nebraska.
Just this month, the Hall County Board of Commissioners approved the construction of a 14-megawatt crypto data center near Grand Island.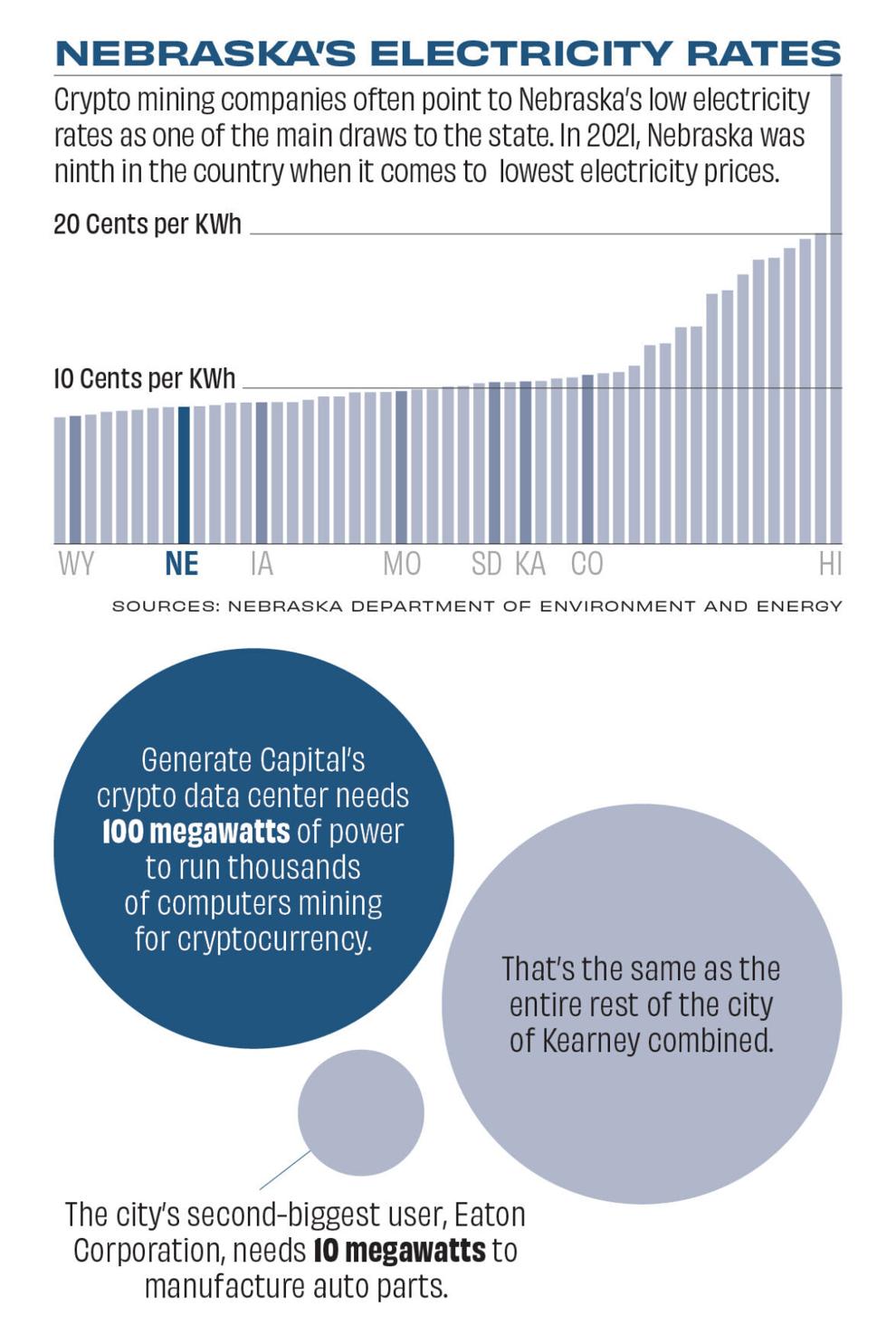 "We weren't actively pursuing these, they came to us," said Neal Niedfeldt, chief executive officer of Southern Public Power District, one of many Nebraska utility districts fielding crypto company calls.
A digital currency, crypto relies on a network of computers maintaining a blockchain —  think of it like a digital ledger of transactions. The computers solve complicated math problems to verify transactions, adding them to the ledger. In exchange, they receive digital "coins" — like bitcoin or ethereum.
The currency is largely unregulated. It's not backed by any government, like the U.S. dollar. For crypto enthusiasts, the decentralized structure is appealing.
"Basically, the business of crypto is converting electricity into computer computations," said Gus Hurwitz, a professor at the University of Nebraska College of Law.
Businesses like the Kearney data center function as a rental space for the computers. Crypto miners ship in their equipment, paying for space, maintenance, internet and —  crucially — electricity.
Electricity is the main cost of business since the computers run virtually 24/7. The companies running these hubs are looking for cheap power.
Compute North found it in Nebraska — the only state served entirely by publicly owned utilities mandated to deliver the cheapest electricity possible.
"They had heard our rates are low, and they're stable," said Nicole Sedlacek, economic development manager for Nebraska Public Power District.
The company had a few other criteria: It liked the power district's mix of carbon-free energy. It needed affordable land. It sought a place that could handle its massive electrical load, and a local government open to the idea of crypto coming to town.
Kearney had everything company officials were looking for.
The central Nebraska town had been working to develop its technology park. A crypto data center promised a few jobs, said Stan Clouse, longtime mayor and also an NPPD manager. The data center would double the electrical capacity of Kearney's power grid, making power more stable and keeping rates low. It would also mean an influx of cash.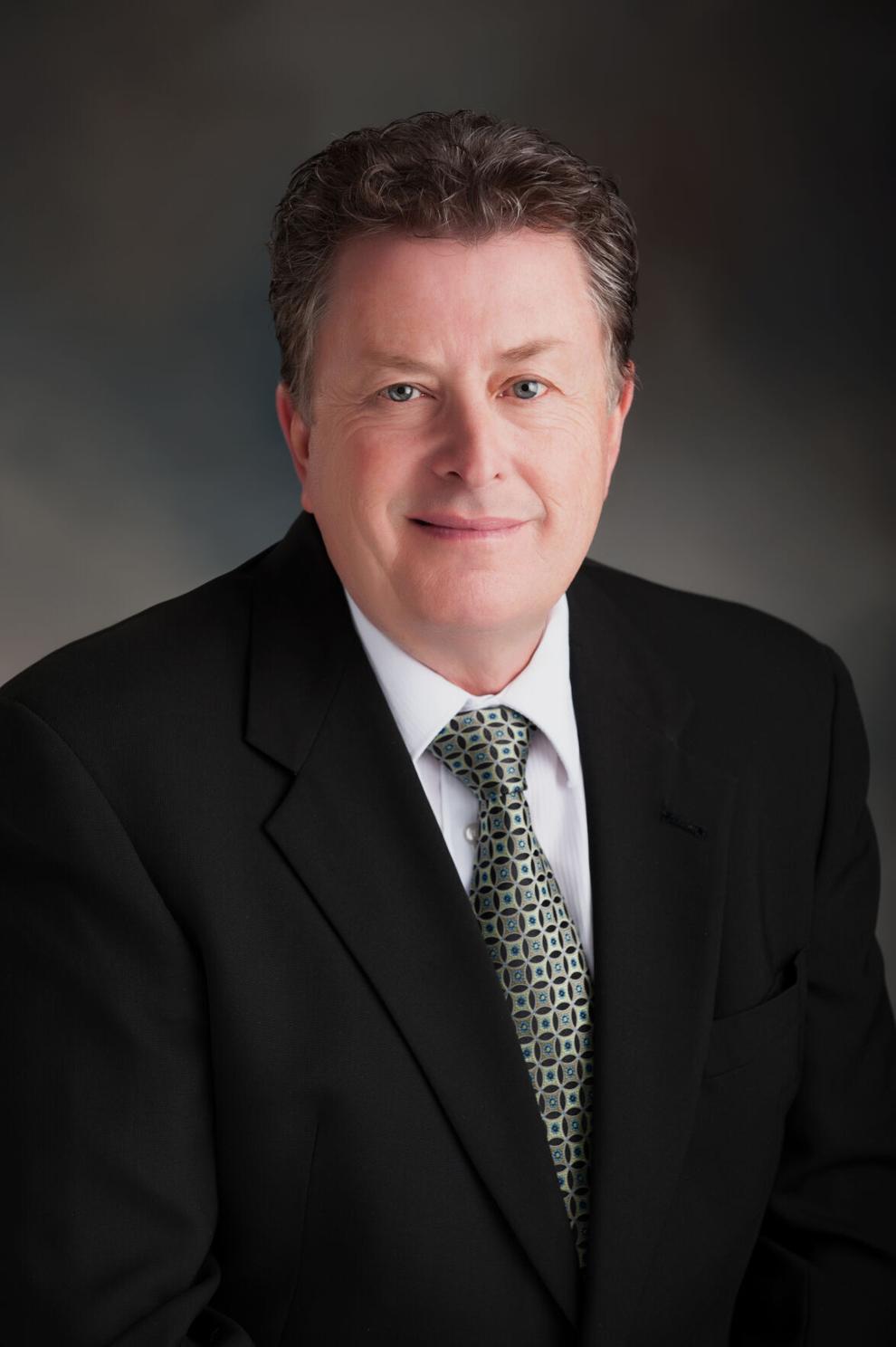 "Increasing the load increases revenue," Clouse said. "That's an excess of $1 million annually to Kearney. For a community our size, that's pretty significant."
But for some, the Kearney data center and others soon opening in Grand Island and York aren't to be celebrated. They're concerning.
"It's not about job creation and opportunity for Nebraska," said Scott Scholz, spokesperson for advocacy group Nebraskans for Social Good. "It's about out-of-state companies leveraging our electrical system for their own profit."
In June 2019, the Kearney City Council voted unanimously to approve a development agreement with Compute North. (Clouse abstained because of his NPPD role.)
The company received 11 acres of free land, valued at $165,000 and paid for by the Economic Development Council of Buffalo County, and a temporary rebate on electricity.
NPPD added mobile substations to help transmit the increased load. It's now working on a new $12.5 million permanent substation that will exclusively send power to the crypto-mining location.
In return, Compute North delivered 11 new jobs. It helped develop and add to the electrical capacity of Kearney's tech park. By 2021, it grew to be a 100-megawatt customer.
By comparison: The rest of Kearney's energy needs peak at 100 megawatts. The second-largest user is manufacturing company Eaton, peaking at 10 megawatts, Clouse said.
Crypto's electricity use raises environmental concerns, Scholz said. One year of global crypto mining uses more electricity than the country of Argentina, according to an estimate in a White House report — accounting for as much as nearly 1% of the world's electricity usage.
In New York, lawmakers recently passed a two-year ban on fossil fuel-powered crypto mining projects. In Montana, a coal-fired power plant was set to shut down, cheering environmentalists — until a crypto data center opened nearby.
In Nebraska, NPPD already had the energy capacity to power the Kearney data center, said Pat Hanrahan, NPPD's general manager of retail services. Roughly 62% of NPPD's energy generation is carbon-free, and has remained steady since Compute North came to Kearney, said Grant Otten, NPPD spokesperson.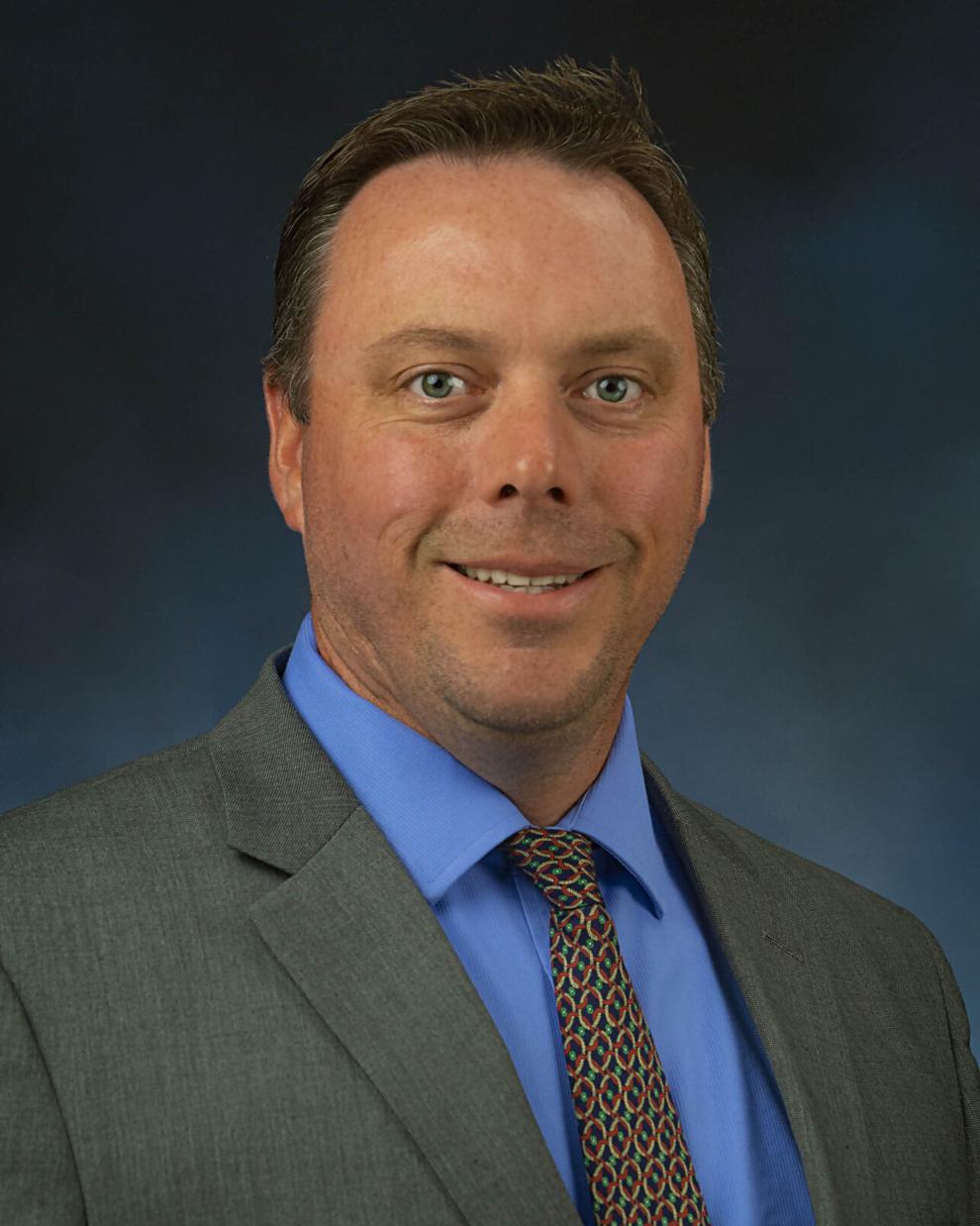 Read More: In search of cheap power and land, crypto companies look to Nebraska